USAGE AREA
Usage areas and thus usage of overboots have been gradually increasing. They are used in environments that are desired to be clean and sterile. Disposable overboots are the most practical and economical solution in preventing germs that can be transmitted from the outer environment to the inside through shoes and in keeping the hygiene level in the environment at a certain level. Overboots can be easily worn on any foot size.
Overboots were first used in hospitals. Nowadays, the use of shoe covers has spread to a large area besides hospitals.
PRODUCT SPECIFICATIONS
Polyethylene Laminated.
It can be printed in the desired color and plate.
It is tear-proof, non-slip and waterproof.
Double sole.
Double laced.
Average Overboots Sizes; 33x18x50 cm
USAGE DETAIL
Prepare the overboots like wearing socks.
Wear it starting from the toe of your boot or shoes.
Pull it to the knee and straighten.
Since it is elastic and laced, it enclasps the ankle and under the knee cap on two points and thus does not get loose.
Keep Fire Away
Nonskid Fabric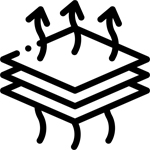 Breathable Fabric
Liquid Proof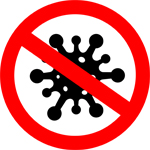 Antibacterial Fabric