USAGE AREA
Medical coveralls are produced for use in operating rooms and environments where healthcare services with similar requirements are provided.
Microporous disposable medical coveralls used for the protection of the surgical team and the patient provides user advantage as it creates a good barrier, allows breathability, and offers ease of use with no pilling and fluffing.
We are capable of producing protective overalls in various colors, quantities and sizes according to the special requests of our customers.
PRODUCT SPECIFICATIONS
Made of 55-60 gr/m2 Polyethylene Laminated Fabric
The zipper has a placket over with a double-sided 12 mm band.
It is sewn from high-quality light and easy to wear non-woven fabric.
Flexible head for easy placement on a face mask.
Elasticated ankle and foot seams to limit transmission and to protect against any fluid.
Elasticated waist for maximum comfort and protection.
It has antiperspirant properties thanks to its breathability
Liquid-proof thanks to bonding bands.
Barrier feature offering resistance against liquid, dust and biological contaminants.
Puncture, tear and abrasion-resistant.
Compatible with toxic-free sterilization processes.
Sizes of S-M-L-XL.
Optional antibacterial feature.
Hooded and elastic on hem, waist, trousers and cuffs. Front zipper for easy wearing and taking off. The zipper cap is locked and does not open inadvertently.
This product is an antiperspirant, breathable, antibacterial and also anti-allergic.
Border stitching technology protects against chemical electrostatic pollution to maximize protection and minimize feathering and stranding.
It is not recommended to approach this coverall with flame.
It should not be used when damaged (contamination and tearing).
Keep Fire Away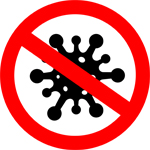 Antibacterial Fabric
Liquid Proof
Nonskid Fabric